We bid farewell (for now) to the Book of Serenity at case 100 last night at just under three years of study hour's study. We will take a break next week, Aug 7th and reconvene on Aug 14th with the Vimalakīrti Sūtra, also called Vimalakīrtinirdeśa Sūtra,  a Mahāyāna Buddhist sūtra. It dates from no later than the 3rd century ce, based on its earliest Chinese translations, and most likely from the 1st or 2nd centuries ce.
We will use the Robert Thurman as the basic text but reading the other translations and comparing differences is also acceptable.  We also just found out about a fourth by our same Book of Serenity Translator, Thomas Cleary you can look into by clicking here appears to only be in e-book version.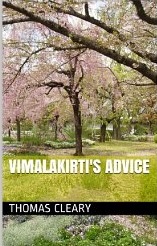 Please read the introduction and first chapter to prepare for our first study hour on this text August 14th.