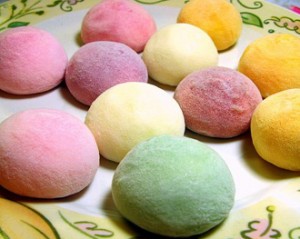 In Japanese, there is a proverb that says "Hot and cold weather last until the equinox".
Higan is the teaching that leads people from the world of delusion to the world of awakening. There are six components of this teaching: giving, precepts, perseverance, diligence, zazen, and wisdom. It is taught that if we carry out these practices we will be blessed with happiness and good fortune.
On the day before Higan, it is the custom in a Japanese home to clean the Buddha altar, to straighten up the various Buddha implements, and to change the flowers on the altar. It is also customary to make offerings of rice dumplings, rice cakes covered with bean jam called ohagi or botamochi. And once again on the final day of the week, dumplings made from rice flour are offered. During this time, offerings of food, special sweets, and fruit are also made. It is customary at this time to visit the temple to present offerings of pounded-rice cakes (mochi), sweets, fruit, and so on to the principal image of Buddha as well as the family ancestors.
It is also the custom at Higan to visit the family grave to express our gratitude to the family ancestors. In Japan the temple priest is then asked to chant a sutra at the grave, at this time, we join our hands in wholehearted prayer.
Following the visit to the gravesite, it is proper to remove the food offerings. No one likes to see spoiled offerings and they are also unsanitary. It is also good to clean up the special gravesite for graves that are no longer tended by family members and offer incense and flowers. In Japan, this is thought to express the beauty of one's heart and mind.