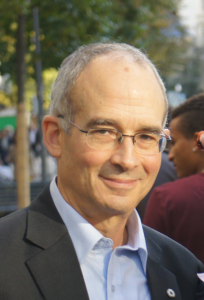 David Schneider author of Street Zen and the recent released Crowded by Beauty, both about the lives of two of Hartford Street Zen Center's abbots; will visit us on Saturday, November 7th starting at 10:15am to talk about his newest book Crowded by Beauty a Philip Whalen collection. Philip was an American poet, Zen Buddhist, and key figure in the literary and artistic scene that unfolded in San Francisco in the 1950s and '60s. When the Beat writers came West, Whalen became a revered, much-loved member of the group. Erudite, shy, and profoundly spiritual, his presence not only moved his immediate circle of Beat cohorts, but his powerful, startling, innovative work would come to impact American poetry to the present day.
Drawing on Whalen's journals and personal correspondence—particularly with Ginsberg, Kerouac, Snyder, Kyger, Welch, and McClure —David Schneider shows how deeply bonded these intimates were, supporting one another in their art and their spiritual paths.
About David Schneider
Born in 1951 in Louisville, Kentucky, David Schneider was the first child of Marc, a Jew and engineer, and Georgia, his southern Baptist sociologist mother. David rapidly acquired three sisters, the rudiments of a standard boomer education, and a bi-religious, Southern upbringing, involving Saturday School and Sunday School. He grew up in Pittsburgh, PA.
He began to practice Zen meditation with a local group at Reed College, in Portland, OR, and attended sesshins with Joshu Sasaki Roshi in 1970 and 1971. In January, 1971, he met Shunryu Suzuki Roshi, and he says, that did it. In April of the same year, he saw Suzuki Roshi and Trungpa Rinpoche together at the San Francisco Zen Center, and that really did it.
David dropped out of Reed College to move into Zen Center. He took up studies under Richard Baker Roshi, and in 1977, he received ordination as unsui or "cloud-water person." He did many academic and practical jobs as part of community life there, which ran from 1972-85. The 1983 scandal at SF Zen Center led to the departure of Baker Roshi. In 1984, in the formal shuso ceremony, David was ordained as a head monk at the Hartford Street Zen Center in San Francisco.
In 1985 David was formally accepted by Trungpa Rinpoche as a student. He attended Vajradhatu Seminary in 1986 and staffed Seminary again in 1988.
David wrote Street Zen, a biography of Issan Dorsey, published by Shambhala Publications (1993) and by Marlowe & Co. (2000). Street Zen won several prizes, including "Best Buddhist Book of the Year" in 1993. In 1994, he co-edited, with Kazuaki Tanahashi, a collection of zen stories titled Essential Zen.
In 1995, Sakyong Mipham Rinpoche appointed David to the post of Director of Shambhala Europe, a position he held until 2003. David now works for Shambhala Media in Europe and continues to pursue writing projects – most recently, Crowded by Beauty, a biography of Beat poet and zen master Zenshin Philip Whalen. Sakyong Mipham Rinpoche appointed David to the post of acharya (teacher) in 1996.
Please join us for this wonderful event!