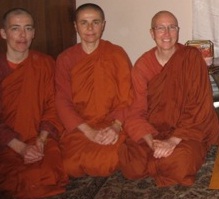 We will have another delightful visit and talk from Ayya Anandabodhi and Sister Jayati (last visited in January 2013). Our original scheduled talk lead by Ayya Santacitta will be postponed to a future date.  Ayya Santacitta's father Josef Bayer recently passed beyond peacefully in hospital in Austria, with his loving wife by his bedside. He was 84 and had been ill for some time.
Our deepest condolences; intentions sent for safe travel and wishing a beautiful reflection of memories and commemoration of life to Ayya Santacitta, family, friends, the Aloka Vihara and Saranaloka Sangha and we look forward to seeing her as soon as we can reschedule.  For now she is traveling to Austria to be with her family.
Please still plan to join us this Saturday as Ayya Anandabodhi  graciously offered to step in and provide our Dharma (Dhamma) talk, who we enjoyed tremendously in the recent past.