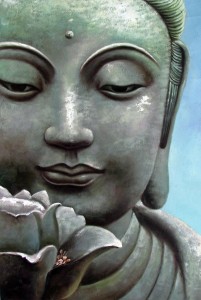 This Saturday is both the annual observance of  Mahapajapati's life a great opportunity to celebrate women in Buddhism through the first female nun. And it's our monthly full moon ceremony for the Worm, Crust (of snow),  Lenton, Crow, or Sap Moon (Farmer's Almanac full moon names) which is for us the ceremony to renew our Bodhisattva vows. Come and join us for double the fun this Saturday morning!
Every Saturday we offer early morning zazen (seated meditation), morning service, a brief drop-in meditation instruction at 8:30 am. And again zazen at 9:25 am. Dharma talk at 10:15 am followed by ceremony (when we have one) and then tea and cookies. We also have a regular schedule 6 days each week.
Please join us this Saturday for this celebration and we hope to see you often!