Join us the next upcoming Saturday for a Full Moon Ceremony, Sangha Council and keep in mind there are still added practice opportunities to practice for our Fall Study Period (Schedule Here) going on right now.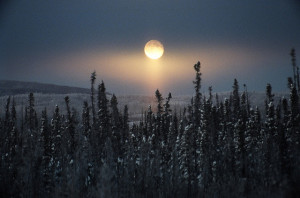 Full Moon Ceremony at around 11:00am — The ceremony takes about a half-hour and involves some thirty full prostrations, but simple standing bows are also all right if prostrations are too strenuous. All are welcome to join in this ceremony/celebration. This month according to the Farmer's Almanac is the Full Frosty or Beaver Moon. The ceremony will begin around 11am roughly after the Dharma Talk.
Sangha Council will commence around 12:30pm and run for 90 minutes with a break mid-way — We're  continuing this format that is flexible enough for a diversity of needs. The scaffold we'll be working from is based on the Council process developed by the Ojai Foundation.
You do not need to have an 'issue' or overt concern to attend.  Council is sangha building, connection and healing.  All are welcome to all of these events including our Fall Practice/Study Period!